Fresh perspectives on debt – accessed from mybudget360.com
Non-housing debt remains stubbornly high.  Student Loan debt is piling up and our next credit crisis is therein 'brewing.'   Federally funded student loan are growing by about $60 billion per quarter and default rates.  Current expectations are that default rates are likely to exceed 13%.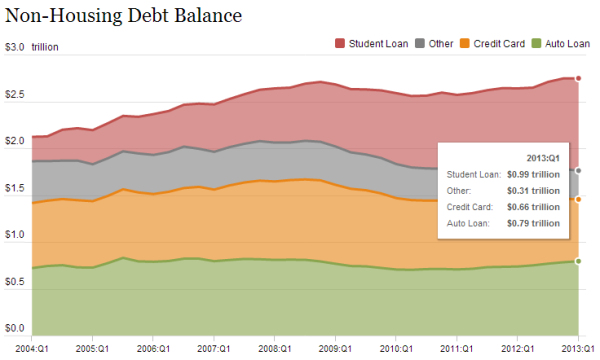 These high levels of debt service are a major 'drag' on the U.S. economy.                      The Leviticus 25 Plan would clean things up in a major way.
And here's a 45-year picture of Total Revolving Credit Owned and Securitized, Outstanding (primarily credit card debt).  After breeching the $1 trillion level, it has backed off a bit.  Now holding above the $800 billion level.                                      Again,  The Leviticus 25 Plan would provide a major 'clean up.'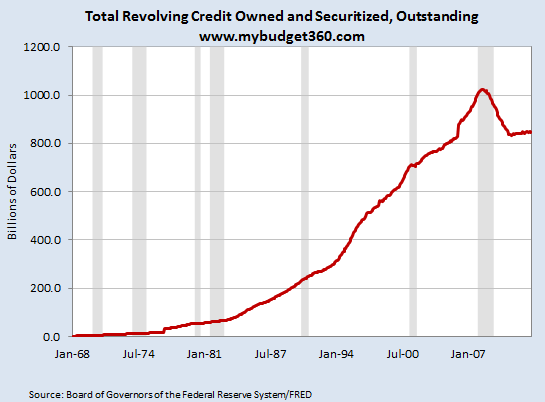 America needs debt relief and economic growth.  5 years of big-government central planning have yielded very little of either.  We are bogged down with systemic debt burdens and a stagnant economy.  And there is no legitimate plan anywhere to change any of this.
With one exception.
The Leviticus 25 Plan would provide a massive system-wide reduction in debt.  It would spark a robust economic revival, and it would build on that by reestablishing  healthy incentives for work and productivity.
Note:  with The Leviticus 25 Plan, there is no loss of benefits and no 'penalty' when extra income is earned.  Work (income) and industriousness are rewarded, rather than penalized.
It has long been recognized that there are only two ways to grow the economy:  Increase the population base.  Or increase productivity.
The Leviticus 25 Plan would provide an immediate, sweeping 'phase out' of a majority of the 'disincentives' that are currently embedded in Amderica's economic system.  We will continue to flounder if we sit here and 'keep cooking the same rotten soup.'