Student loan debt levels have reached the $1.273 trillion level (2015 Q2), and these loans are taking on a subprime flavor (Huffington Post – Sep 2015: Student loans looking a lot like subprime).
The U.S. auto loan debt level is approaching the $1 trillion level, with subprime auto loans comprising a growing share (Bloomberg – June 2015: Subprime auto loans stoke debt concerns).
…………………………………….
Fed G-19
Historical Data
Consumer Credit Outstanding (Levels)
(Millions of dollars; not seasonally adjusted)
Memo
| Date |                         Student Loans | Motor Vehicle Loans |
| --- | --- | --- |
| | | |
| --- | --- | --- |
| 2014 Q1 | 1,177,837.15 | 892,316.12 |
| 2014 Q2 | 1,187,017.58 | 918,247.28 |
| 2014 Q3 | 1,221,134.10 | 943,387.87 |
| 2014 Q4 | 1,230,070.17 | 957,815.40 |
| 2015 Q1 | 1,265,107.16 | 972,177.09 |
| 2015 Q2 | 1,272,874.66 | 998,142.41 |
____________________________________
MyBudget360.com:  Subprime lending at highest level since financial crisis hit: The three leading subprime categories are auto loans, credit cards, and student debt. $189 billion in subprime loans made in 2014.                                        Excerpts: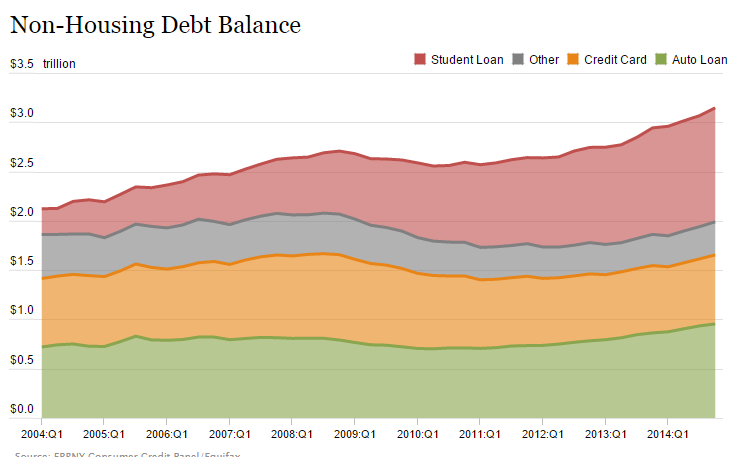 What is telling is that a good portion of the consumer spending that is happening is coming from marginal borrowers.  What happens when the economy hits its next recession?  People are living on the marginal edge and we already know half of Americans are living paycheck to paycheck.  Do you think giving people access to subprime debt is going to make their financial future more secure?  All it is doing is allowing them to consume future income (which in many cases is in the form of low wages) and making any ability for financial security disappear.  Keep in mind what subprime debt means:
"(WSJ) Almost four of every 10 loans for autos, credit cards and personal borrowing in the U.S. went to subprime customers during the first 11 months of 2014, according to data compiled for The Wall Street Journal by credit-reporting firm Equifax.

That amounted to more than 50 million consumer loans and cards totaling more than $189 billion, the highest levels since 2007, when subprime loans represented 41% of consumer lending outside of home mortgages. Equifax defines subprime borrowers as those with a credit score below 640 on a scale that tops out at 850."
___________________________________
Question:  When the next round of subprime default waves roll in, will taxpayers once again be 'on the hook' to bail out lenders?                                                                      Answer:  Yes
It is time to get proactive and eliminate debt.  And revive real economic growth in America.
The Leviticus 25 Plan 2015 –  $70,000 per U.S. citizen                                                  The Leviticus 25 Plan 2015 (1178)