America is at a critical fiscal juncture.
……………………………………….
March 30, 2016  /   BY JOHN MAULDIN – Maudlin Economics                            Excerpts:
The weakest recovery in modern history has stretched on for 69 months.
By 2017, it will be the third-longest recovery without a recession since the Great Depression. By 2018, it will be the second longest.
[snip]
The US' fiscal reality
Next year, the US national debt will top $20 trillion. The deficit is running close to $500 billion, and the Congressional Budget Office projects that figure to rise.
Add another $3 trillion or so in state and local debt. As you may imagine, the interest on that debt is beginning to add up, even at the extraordinarily low rates we have today.
Sometime in 2019, entitlement spending, defense, and interest will consume all the tax revenues collected by the US government. That means all spending for everything else will have to be borrowed.
The CBO projects the deficit will rise to over $1 trillion by 2023. By that point, entitlement spending and net interest will be consuming almost all tax revenues, and we will be borrowing to pay for our defense.
Let's look at the following chart, which comes from CBO data: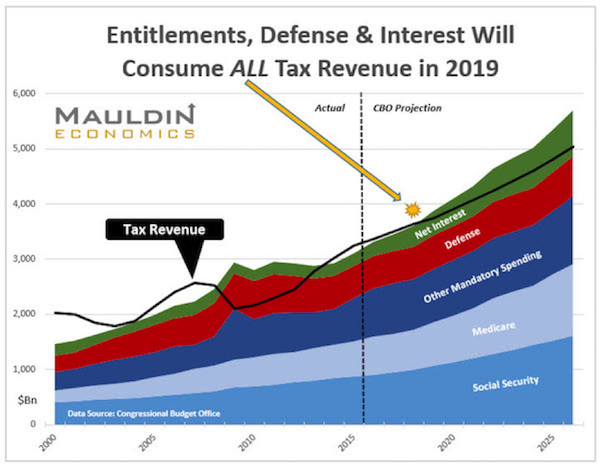 What a budget might look like if we have a recession
[snip]
Here's a chart of what a recession in 2018 would do: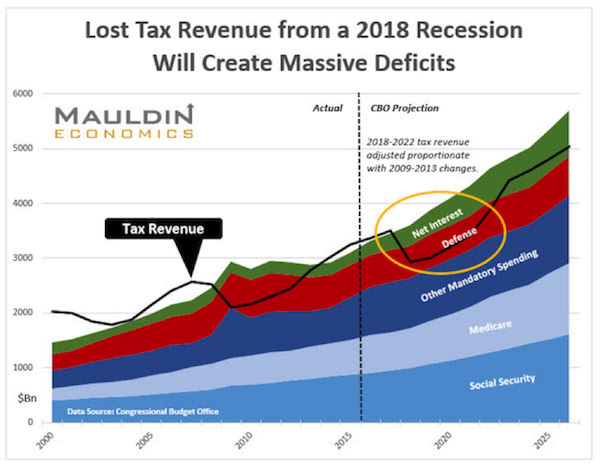 Entitlement spending and interest would greatly exceed revenue.
The deficit would balloon to $1.3 trillion. And if the recovery occurs along the lines of our last (ongoing) recovery, we will not see deficits below $1 trillion over the following 10 years—unless we reduce spending or raise revenues.
____________________________________________
We need to get America moving again – now.
We need to unleash the power of a free-market, citizen-directed economy, with massive debt elimination at ground level.
We need decentralization – and economic liberty.
And we need to get moving, and we need the right plan to make it happen.
The Leviticus 25 Plan 2017 –  $75,000 per U.S. citizen                                              The Leviticus 25 Plan 2017 (1415)