Global Central Banks have pumped out trillions of dollars in liquidity through balance sheet expansion over the past nine years, purchasing debt, purchasing equities, emergency lending, and bankrolling credit guarantees.
The massive liquidity infusions eliminated debt and restores "financial health" for Wall Street's financial sector, but how has it worked out for U.S. citizens?  Poorly.
Real personal income growth (Y/Y) is lower now than it has been at any time in the past 60 years.
………………………………………….
Hoisington Quarterly Review and Outlook – 4Q2016
(4) Impediments to Growth: Eroding Demographics
Weak population growth, a baby bust, an aging population and an unprecedented percentage of 18- to 34-year olds living with parents and/or other family members characterize current U.S. demographics, and all constrain economic growth. Moreover, real disposable income per capita is so weak that these trends are more likely to worsen rather than improve (Chart 3).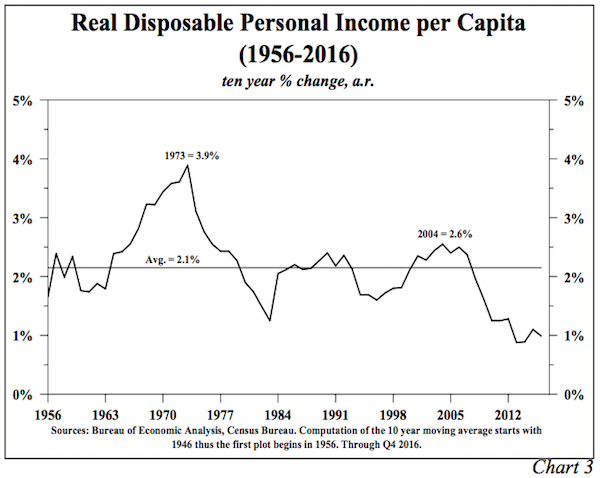 In the fiscal year ending July 1, 2016, U.S. population increased by 0.7%, the smallest increase on record since The Great Depression years of 1936-1937 (Census Bureau) (Chart 4). The fertility rate, defined as the number of live births per 1,000 for women ages 15-44, reached all time lows in 2013 and again in 2015 of 62.9 (National Center for Health Statistics). The average age of the U.S. reached an estimated 37.9 years, another record (The CIA World Fact Book). Population experts expect further increases for many years into the future. For the decade ending in 2015, 39.5% of 18-to 34-year olds lived with parents and/or other family members, the highest percentage for a decade since 1900, with the exception of the one when new housing could not be constructed because the materials were needed for World War II.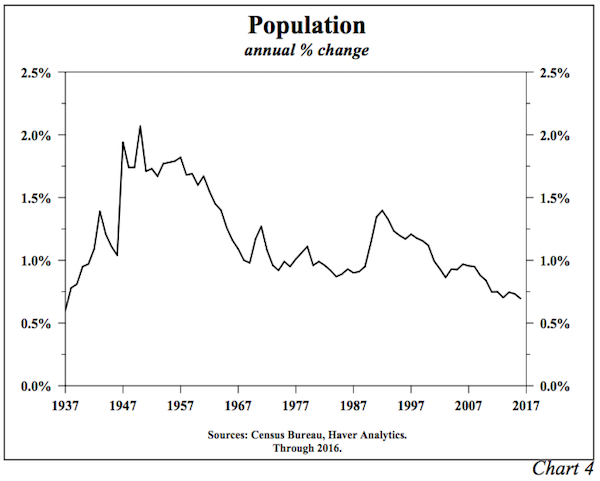 Over time, birth, immigration and household formation decisions have been heavily influenced by real per capita income growth. Demographics have, in turn, cycled back to influence economic growth. If they are both rising, a virtuous long-term cycle will emerge. Today, however, a negative spiral is in control. In the ten years ending in 2016, real per capita disposable income rose a mere 1%, less than half of the 50-year average and only one-quarter of the growth of the 3.9% peak reached in 1973. In view of the enlarging debt overhang, which is the cause of these mutually linked developments, economic growth should continue to disappoint. There will likely be intermittent spurts in economic activity, but they will not be sustainable.
__________________________
It is time to restore financial health to American families – with an economic acceleration plan that pays for itself entirely over a 10-15 year period.
The Leviticus 25 Plan is a dynamic economic initiative providing direct liquidity benefits for American families, while at the same time scaling back the role of government in managing and controlling the affairs of citizens.  It is a comprehensive plan with long-term economic and social benefits for citizens and government.
The inspiration for this plan is based upon Biblical principles set forth in the Book of Leviticus, principles tendering direct economic liberties to the people.
The Leviticus 25 Plan 2018 –  $75,000 per U.S. citizen                                              The Leviticus 25 Plan 2018 (2205)
"He who will not apply new remedies must expect new evils." – Sir Francis Bacon