Consumer debt is a major drag on disposable income.  It is difficult to imagine a robust recovery in real disposable income growth without a healthy draw-down in consumer and household debt.
Credit card debt and delinquencies are surging.  Disposable income is stagnating…
America needs a powerful new economic strategy…
…………………………………..
Credit Card Delinquencies Surging
Summary
Credit card delinquencies rose to 2.53% across all commercial banks.
Credit card delinquencies soared to 5.34% across small banks, the highest since the financial crisis.
The major four U.S. banks saw credit card losses surge 20% in 2017 compared to 2016.
The trend in credit card delinquency rates has inflected positively across all major banks, although still low on a nominal level. The trend in credit card delinquencies is soaring, however, at smaller banks to levels not seen since the financial crisis.
The data shows that over the past 5 years, real personal disposable income growth per capita has grown at a sluggish pace of only 0.76%.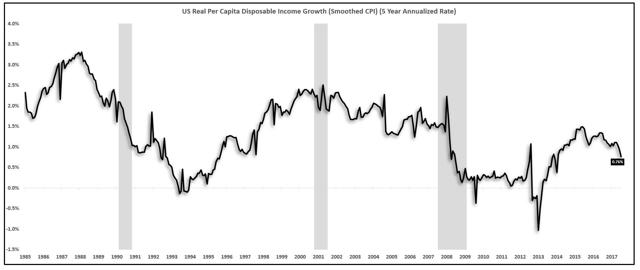 _________________________
There is one economic acceleration plan in America with the raw power to re-instill positive work incentives and boost productivity across labor markets, improve credit quality within the banking system, and restore financial health and economic liberty to U.S. citizens and their families.
The Leviticus 25 Plan – An Economic Acceleration Plan for America
The Leviticus 25 Plan pdf (2654 downloads)